Paraquat Parkinson's Lawsuit MDL 3004
The use of paraquat has sparked controversy worldwide, and scientists have linked the popular herbicide Paraquat to many adverse effects, such as neurodegenerative diseases, cancer, and other health problems. Paraquat is banned in many countries due to its ability to cause serious health issues, such as Parkinson's disease, and has recently been subject to intense scientific scrutiny. Many studies have now proven the connection between paraquat exposure and Parkinson's disease. 
As a result of the significant scientific evidence supporting a link between paraquat and Parkinson's disease, paraquat lawsuits were filed around the United States. The Paraquat lawsuits in federal court were eventually consolidated into a multidistrict litigation (MDL 3004). NGRV attorney Marlene Goldenberg was then appointed by the paraquat court to be one of a handful of attorneys to be on the Plaintiffs' Executive Committee (PEC) to lead the paraquat litigation. Below we will cover the history of Paraquat and the current status of the Paraquat lawsuits.
What is Paraquat?
Paraquat is an herbicide used to eliminate weeds and vegetation. Paraquat has existed since the 1960s and is one of the world's most widely used herbicides. Paraquat is a non-selective, systemic herbicide, meaning it kills any plant it comes in contact with.
Paraquat has a wide range of applications, with the most common being the elimination of invasive weeds and grass. Paraquat is sold in liquid, granular, and wettable powder forms. In the United States, Paraquat is sold in a blue dye, and the product incorporates a vomiting agent so that it can be easily distinguished and not mixed with food. The ingestion of Paraquat can be fatal to humans and other animals. 
Is Paraquat Legal in The US?
In the US, paraquat is legal, but paraquat is categorized as a "restricted use" product by the US Environmental Protection Agency (EPA). In other words, paraquat is only available to licensed applicators – paraquat is not available to the general public. Due to significant health and environmental concerns, paraquat has been banned in many countries around the world, such as the entire European Union, Brazil, and even China. To make matters even worse, several paraquat manufacturers are headquartered in a country where paraquat is banned, yet still export the paraquat to other parts of the world, including the United States.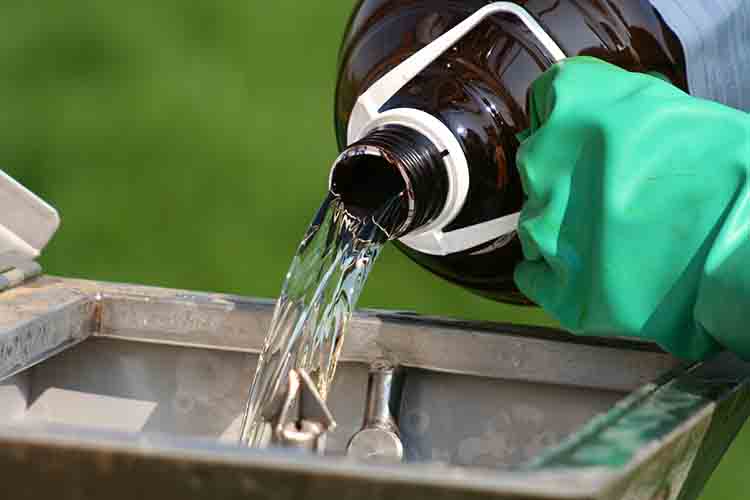 What Are the Paraquat Herbicide Lawsuits About?
If you have been following the news about paraquat, you may have heard about the thousands of lawsuits filed related to the product.
These Paraquat cases are not a class action. Each person who developed Parkinson's Disease from exposure to paraquat has a case that is prosecuted separately. The cases have all been centralized in the Southern District of Illinois before Judge Nancy Rosenstengel. All pretrial matters, such as depositions of the manufacturers' witnesses, expert reports common to all cases, and other issues that relate to all cases equally, are handled in this consolidated proceeding, but each plaintiff has their own case.
These lawsuits allege, among other things, that the manufacturers failed to warn about the potential health risks of using paraquat. They seek damages for pain and suffering, medical expenses, economic losses, and emotional distress.
Who Manufactures Paraquat?
The primary defendants in the paraquat lawsuits are Syngenta and Chevron. Syngenta is a Swiss-based and China-owned agribusiness firm and one of the largest producers of herbicides in the world. Paraquat is banned in both China and Switzerland, but the company still exports paraquat to other countries under the name Gramoxone.
Chevron and Phillips66 are also in a joint venture operating under Chevron Phillips Chemical Company LLC. The company is another major producer of paraquat.
What Are the Symptoms of Paraquat Poisoning?
Paraquat can cause serious problems to humans and animals if ingested or even inhaled and exposed to the skin. Due to paraquat's high toxicity, individuals who have worked closely with the chemical are susceptible to health complications, even years after their last exposure to paraquat.
The most common and immediate symptom associated with paraquat poisoning is severe abdominal pain. Abdominal pain caused by paraquat exposure can last for several days and may be accompanied by fever, nausea, vomiting, and diarrhea. In rare cases, abdominal pain due to paraquat exposure may be accompanied by jaundice or yellowing of the skin and eyes. Other symptoms of paraquat poisoning may include confusion, drowsiness, dizziness, difficulty breathing, and chest pain.
In cases where the individual has been exposed to paraquat for a longer duration or ingested a considerable amount of paraquat, severe complications can occur quickly, such as kidney or lung failure, respiratory problems, paralysis, or even death. While the Paraquat label warns consumers that drinking it can cause serious harm or death, the label contains no warnings about the link between paraquat and Parkinson's Disease.
Can Paraquat Exposure Cause Parkinson's Disease?
Numerous studies suggest that exposure to paraquat may increase the risk of developing Parkinson's disease, particularly in individuals who have been exposed to high levels of paraquat over an extended period of time. There have even been allegations that prominent manufacturers of paraquat have tried to suppress scientific research, which showed a link between paraquat and Parkinson's Disease.
Paraquat Lawsuit MDL 3004 Updates / History
A brief timeline of significant litigation events and the latest updates on the paraquat lawsuits consolidated as MDL 3004 against Syngenta and Chevron are below. Bookmark this page to stay up to date on the latest paraquat lawsuit updates.
September 2017
A paraquat lawsuit was filed in St. Clair County, Illinois, against paraquat manufacturers Syngenta and Growmark. The paraquat lawsuit claimed that the plaintiff was exposed to paraquat at a young age and subsequently developed Parkinson's disease as a result. 
April 2021
Because of the growing number of paraquat lawsuits filed throughout the United States in federal court, on April 7, 2021, a paraquat Motion of Transfer was filed to centralize the paraquat lawsuits into a Multidistrict Litigation (MDL). At the time the motion to transfer was filed, it was noted that there were fourteen paraquat Parkinson lawsuits filed in six different federal courts across the country. 
June 2021
The Judicial Panel on Multidistrict Litigation (JPML) of the United States ordered that all federally filed paraquat lawsuits be centralized in the Southern District of Illinois, creating MDL 3004. The JPML noted that Illinois ranks in the top five states in paraquat usage. Judge Nancy J. Rosenstengel was assigned to preside over the paraquat lawsuits in MDL 3004. At the time MDL 3004 was formed, the JPML noted that there were 77 paraquat lawsuits filed in sixteen different federal district courts in the United States. Judge Nancy Rosenstengel already presided over 20 of the filed paraquat lawsuits. 
July 2021
174 paraquat lawsuits are now pending MDL 3004. On July 6, 2021, the paraquat judge entered case management order (CMO) #2 appointing which attorneys around the nation would lead the paraquat litigation. Marlene Goldenberg of Nigh Goldenberg Raso & Vaughn was court appointed to the Plaintiffs' Executive Committee (PEC) for the paraquat lawsuits pending in MDL 3004. Marlene Goldenberg continues to play an active role in the paraquat lawsuits to this day.
September 2021
On September 3, 2021, the paraquat judge entered case management order #7 in MDL 3004, requiring all plaintiffs that have filed a paraquat lawsuit to complete a Plaintiff's Assessment Questionnaire (PAQ). The PAQ's goal is to assess paraquat lawsuits relating disease to paraquat exposure.
November 2021
In an attempt to get rid of lawsuits of those injured by paraquat, the paraquat defendants requested to dismiss particular claims that suggest paraquat exposure causes Parkinson's disease. The paraquat defendants requested the dismissal due to time restrictions known as statutes of limitations.
In response, paraquat attorneys for the plaintiffs claim that the defendants' motions violate the fundamental purpose of an MDL, which is to ensure pretrial proceedings lead to the efficient, just, and expeditious resolution of all actions. The paraquat judge denied that proposal, and the paraquat plaintiffs were ordered to respond until December 2021.
December 2021
482 paraquat lawsuits are pending in federal courts– a substantial growth from the 14 paraquat lawsuits that were on file when MDL 3004 was requested just a few months earlier. On December 3, 2021, the paraquat MDL judge entered case management order # 12, directing the paraquat lawyers to complete a fact discovery check on the paraquat plaintiffs' claims to proceed with the final pretrial conference of the chosen trial dates.
February 2022
680 paraquat lawsuits are now pending in MDL 3004. At this time, nearly 100 paraquat lawsuits are being filed every month.
March 2022
In approximately 1 month, nearly 200 additional paraquat lawsuits were filed in MDL 3004, bringing the total number of paraquat lawsuits on file in MDL 3004 to 875. Via amended case management order #12, the paraquat court ordered the parties to rank the 16 paraquat bellwether lawsuits in order of preference. 
August 2022
The number of paraquat lawsuits on file ballooned to 1,749 – more than doubling the number of paraquat lawsuits on file in just 5 months. On August 17, 2022, the paraquat judge issued case management order #15, postponing the first paraquat bellwether trial from November 2022 to July 2023. The nine-month trial delay was upsetting to the paraquat attorneys and plaintiffs, as the significant trial delay benefits the defendants and delays any potential paraquat settlement.
September 2022
The number of paraquat lawsuits continues to increase, with 1,925 paraquat lawsuits now pending in MDL 3004.
December 2022
The paraquat judge once again postponed the date of the initial paraquat bellwether trials, this time from July 2023 to October 2023. As 2022 draws to a close, over 2,000 paraquat lawsuits are now pending in MDL 3004. 
What Are the Paraquat Lawsuit Qualifications?
Generally, you should obtain proof of the following:
Evidence that you lived in an area where paraquat was being used or that you worked directly with paraquat
Evidence of your medical bills and lost wages
Evidence of Parkinson's disease development or other health condition
Evidence that you have not exceeded the amount of time in which you are allowed to file a claim– known as the statute of limitations
Paraquat Lawsuit Settlement Amounts
Trying to give an answer as to the amount a paraquat lawsuit will settle for in general is not possible, but the below are factors that will likely influence the settlement amount of any paraquat lawsuit:
Paraquat Exposure: If you were exposed to large amounts of paraquat over a long period, you might be entitled to more compensation than someone exposed to small amounts over a short period.
Medical Expenses: Following the same logic, considerable treatment expenses may lead to bigger compensation. A settlement or verdict will compensate both current and future medical bills.
Pain and Suffering: Proof of emotional distress, such as depression or anxiety caused by paraquat exposure, may increase the compensation.
Link to Parkinson's Disease or Other Medical Conditions: As the scientific evidence linking the two is starting to consolidate, if you have been exposed to paraquat over a long period and have been diagnosed with Parkinson's disease, this will potentially lead to more significant compensation.
The Outcome of the Bellwether Trials: After postponements and frustration among the plaintiffs, the bellwether trials are set to commence on October 2023. The outcome of the bellwether trials will set the tone for the individual cases moving forward and the amount that can be received after the settlement.
Ultimately, the compensation you are entitled to will depend on many factors. If you or your loved ones have been exposed to paraquat, contact our experienced attorneys, who will review the details of your case and help you seek the compensation you deserve.
When Should I Expect My Paraquat Lawsuit to Settle?
We understand that this question is in every plaintiff's mind, especially after the postponements of the initial bellwether trials, since these will help determine the outcome of the individual cases.
However, the push in the courts since the cases are continuing to increase, and the two postponements of the bellwether trials lead us to believe that 2023 will be the year of sturdy predictions regarding the outcome and the date of the following individual trials.
If you are involved in a lawsuit against paraquat manufacturers, you should consult our paraquat lawsuit attorneys about the potential timeline. Based on the specifics of your case, they will give you a better idea of what to expect.
Paraquat Attorney
Marlene Goldenberg of Nigh Goldenberg Raso & Vaughn was court-appointed by the judge in the Paraquat lawsuit MDL 3004 to the Plaintiffs' executive committee (PEC). For a free Paraquat lawsuit case consultation, please call 202-792-7927. Call today if you or a loved one have been exposed to Paraquat and developed Parkinson's disease. At this time, Nigh Goldenberg Raso & Vaughn are still accepting new Paraquat cases and filing Paraquat lawsuits. Various statutes of limitations could apply to any Paraquat lawsuit – don't delay.