Camp Lejeune Lawsuit
Located in Onslow County, southeastern North Carolina, you will find Marine Corps Base Camp Lejeune. Taking a prominent space in the military town of Jacksonville, the base sits adjacent to the New River flowing to the Onslow Beach area, and is stretched across over 155,000 acres of land, including 14 miles of beach on the Atlantic Ocean.
Camp Lejeune's prime location helped establish it as an important marine corps base: nestled between two deep-water ports, the area has proven to be stellar for amphibious assault training. Unfortunately, close proximity to water bodies has also led to misfortune.
Between 1953 to 1957, the USMC service members and their families that were living at the base used, bathed in, and ingested tap water that was contaminated with highly concentrated toxins.
This led to severe health complications in those who interacted with the contaminated water, including but not limited to; liver cancer, kidney cancer, and ALS.
In this article, we will delve deeper into the history of Camp Lejeune leading up to the water contamination problem, and the major events that followed that. So, if you are here to find out more about Camp Lejeune water contamination claims, keep reading.
Camp Lejeune as a Military Base
In the early 1940s, a selection board declared the New River area in North Carolina as the best possible area for a new military base. This was due to a multitude of factors, but primarily because this particular location offered two deep-water ports of Morehead City and Wilmington, and could hence support not only the Marine Corps Base, but also support a major Navy Command as well as a Coast Guard command.
Subsequently, the construction of the base commenced in May 1941 under the supervision of Lt. Col. William P.T.Hill. Later that year, the base acquired its name: Camp Lejeune, in the honor of the 13th Commandment of the Marine Corps, John A. Lejeune.
Often referred to as the "Home of Expeditionary Forces in Readiness," Camp Lejeune rapidly became the hub of military activity in Onslow County, predominantly amphibious operations. Today, it occupies approximately 156,000 acres of land, and it supports not only amphibious training but also holds 80 live fire ranges, three state-of-the-art training facilities, 48 tactical landing zones, and 32 gun positions. Camp Lejeune is not only a major area for the US military – it also welcomes military forces from all over the world for NATO-sponsored exercises.
Water Contamination at Camp Lejeune
The water contamination problem at Camp Lejeune lasted roughly from Aug. 1, 1953 to Dec. 31, 1987. During this time, the estimated total population at Camp Lejeune was about 900,000. All 900,000 of those stationed at Camp Lejeune – whether at the main base, barracks, or temporary housing, bathed in and drank contaminated water.
After early reports of complications began to surface, it was discovered that two out of the eight water treatment plants had been contaminated by intensely dangerous chemical substances. Traces of perchloroethylene (PCE), a dry cleaning solvent, along with other volatile organic compounds (VOCs), were found in the water. Trichloroethylene, which is a degreaser, along with
over 70 other toxins, was also detected in water samples. These toxins were found at concentrations ranging from 240 to 3400 times the levels permitted by safety standards. In short, the water being used and consumed by the residents of Camp Lejeune was severely dangerous.
So, what caused Camp Lejeune water contamination?
It is likely that the Camp Lejeune water contamination was caused primarily by the chemicals used to clean military equipment found on the base, leaks from fuel storage tanks, and other solvents involved in the upkeep of the base. This unsafe use and disposal of chemicals at the base continued for years.
In 1974, the military began to take action and issued a base order to ensure safe disposal of solvents. Despite this, the harmful practices involving solvents continued, and in the mid-1980's the base's wells were shut, but only temporarily shut. The wells were then reopened, allowing base residents to continue to be exposed to the harmful chemicals.
The Damage Caused
Between 1953 to 1987, thousands of people were exposed to the dangerous, life-altering chemicals in the form of the water they were bound to use for daily activities. The water had copious amounts of VOCs in it. It is well known that VOCs are very harmful to the human body. VOC contamination in water has been linked to birth defects, pregnancy complications, and a plethora of other health issues that the people stationed at Camp Lejeune would unfortunately have to deal with in the years following the contamination.
The National Research Council, under the directions of the U.S Navy, assembled a multidisciplinary committee of environmental scientists, toxicologists, and other experts to conduct a health-effects evaluation in connection with the contaminated water. Based upon their evaluation of toxicological evidence, the Council's assessment of the resulting health effects notes that the contaminants in the water are linked to causing liver, lung, kidney, and testicular cancers.
Unfortunately, this is not where the list of conditions associated with Camp Lejeune ends. The legislation also provides for compensation for the following related injuries:
Bladder cancer
Breast cancer
Esophageal cancer
Female infertility
Hepatic steatosis
Kidney cancer
Leukemia
Lung cancer
Miscarriage
Multiple myeloma
Myelodysplastic syndromes
Neurobehavioral effects
Non-Hodgkin's lymphoma
Renal toxicity
Scleroderma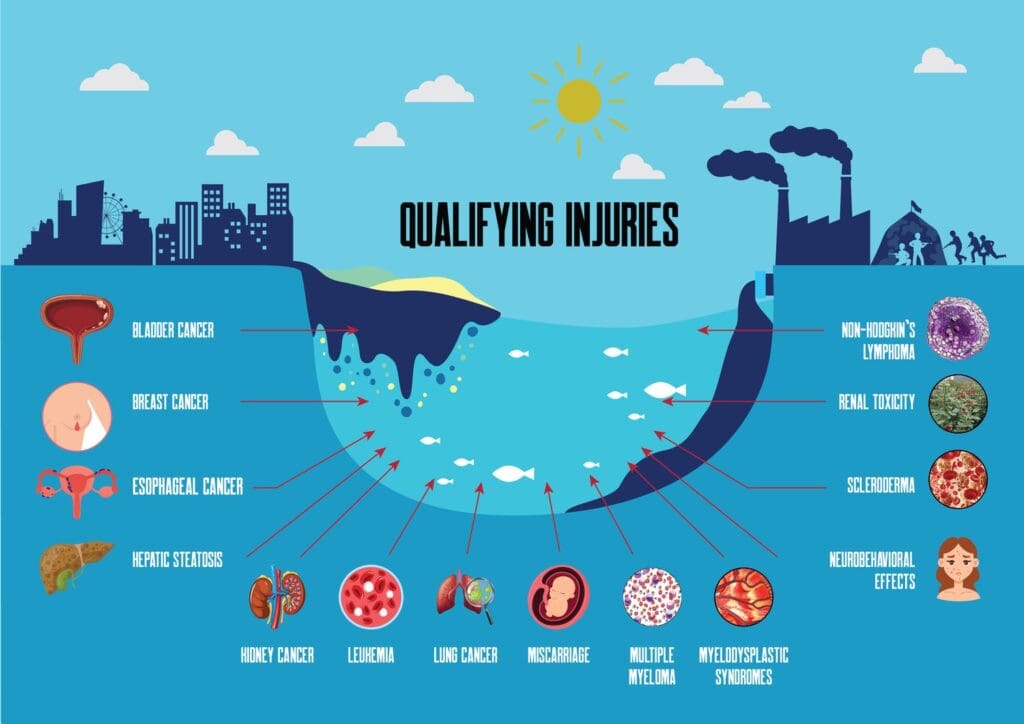 Camp Lejeune Water Contamination: The Response
It was only in 1999, almost a decade after the end of the contamination period, that the USMC notified former residents of Camp Lejeune that they were exposed to contaminated water. This means that for almost ten years, any birth defects, diseases, and health complications that the base residents grappled with were attributed to bad luck – the source of these grievances remaining unknown for decades.
Thus began a long series of developments that were made to ensure that not only the USMC was held accountable for their handling of the situation, but also that the victims of the contamination were given justice. The trajectory of getting to that point has not been linear, and was lined with many setbacks for those involved in the movement, including a resistance from the military itself.
Current Law on Camp Lejeune Water Contamination Claims
If you are interested in Camp Lejeune settlement amounts, there are quite a few provisions that you must consider and keep in mind. To begin with, there is disability compensation, which requires a "presumptive service connection" for Veterans, Reservists, and National Guard members exposed to the water contamination. In case the presumptive service connection can be proven, you can claim for the following eight diseases: adult leukemia, aplastic anemia and other myelodysplastic syndromes, bladder cancer, kidney cancer, liver cancer, multiple myeloma, Non-Hodgkin's lymphoma, and Parkinson's disease. For a claim for disability compensation, you must have sufficient scientific and medical evidence to support your presumptions.
Additionally, under the Camp Lejeune Family Act of 2012, the VA provides free healthcare for a number of conditions to Veterans who were on active duty at Camp Lejeune from 1953 to 1987 and served at least 30 days. The conditions covered by these provisions include: bladder cancer, breast cancer, esophageal cancer, female infertility, hepatic steatosis, kidney cancer, leukemia, lung cancer, miscarriage, multiple myeloma, myelodysplastic syndrome, neurobehavioral effects, non-hodgkin's lymphoma, renal toxicity, and scleroderma.
It should be noted that the Janey Ensminger Act extends the scope of applicability for the presumptive service connection, and allows it to cover family members of the veterans as well.. As long as you can show that you lived on the base during the time when the contamination was active and have developed a condition, you can make a claim for any of the aforementioned diseases, regardless of whether you are a Veteran or a family member of a Veteran.
Recently, the "Sergeant First Class Heath Robinson Honoring our Promise to Address Comprehensive Toxics Act of 2022" or the "Honoring our PACT Act of 2022" was passed. It covers the same conditions mentioned above, yet is considered to be a significant, hallmark development in this area. This is mainly due to the fact that it extends medical care and mental health coverage through the VA to veterans who were exposed to toxic substances in various instances, and makes healthcare for victims considerably more accessible.
Section 804 of the Act incorporates the "Federal Cause of Action Relating to Water at Camp Lejeune, North Carolina" or "Camp Lejeune Justice Act of 2022." This portion of the Act allows base residents to receive compensation for related injuries if they can meet the burden of proof set out in the new law. In order to satisfy the burden of proof a claimant must prove that the harm is
a) sufficient to conclude that there is a causal relationship between it and the contamination OR
b) sufficient to conclude that a causal relationship is at least as likely as not.
Navigating the compensation scheme can be time-consuming and complex. We can help with that.
Studies and Literature on the Health Impacts of the Contaminated Groundwater at Camp Lejeune
2022 Clinical Encounter with Three Cancer patients Affected by Groundwater Contamination at Camp LeJeune: A Case Series and Review of the Literature
The article presents three cases of cancer patients who lived at Camp Lejeune decades ago. The first patient was a young male who was diagnosed with T cell acute lymphoblastic leukemia at the age of 37. The second patient was a male who had multiple types of cancer in the prostate, lung, and colon as well as chronic lymphocytic leukemia in his 60s and 70s. The third patient was another male who had recurrent skin cancers of different histology, namely basal cell carcinomas, squamous cell carcinomas, and melanoma, from his 50s to 70s. The authors concluded, "Initially, it seemed more than coincidental that three patients who were affected by the water contamination at Camp Lejeune were seen in one clinic located 1000 miles away. On the other hand, the encounter with these three patients speaks to the magnitude of the contamination and the numbers of patients spread throughout the United States and abroad. Based on our experience, it is likely that people who have lived in Camp Lejeune will be seen in oncology clinics across the country with a new cancer diagnosis. For those affected individuals, thorough history-taking can lead to a high level of vigilance and appropriate cancer screening, so that the eligible patients may receive financial coverage for the medical care that they need. We hope that this article raises awareness about the history of Camp Lejeune's water contamination among cancer care providers and ultimately serves as a public reminder about the importance of chemical carcinogens in the surrounding environment."
2022 Angiosarcoma: A Rare Malignancy Linked to Chemical Exposures
The authors note that "Approximately 40,000 new cancer cases in veterans are reported annually. The incidence of cancer is likely the result of radiation and growing evidence linking cancer to herbicides and chemical weapons, particularly chemical exposure at Camp Lejeune. Those who trained at the Marine Corps Base Camp Lejeune from 1957 to 1987 were exposed to over 3000 times the safe exposure limit of toxic chemicals through the contaminated water. The chemicals were industrial solvents contaminating the water treatment systems supplying the camp. These included tetrachloroethylene (PEC), trichloroethylene (TCE), trans- 1,2-dichloroethylene, and vinyl chloride, highly carcinogenic agents associated with adult leukemia, Parkinson's disease, and bladder cancer, among other malignancies." The authors also noted that there is epidemiologic evidence linking "soft tissue cancers, such as angiosarcoma, and contaminated water at Camp Lejeune." The authors concluded that, "Further research on the relationship between water contamination at Camp Lejeune and the development of angiosarcoma may support the addition of angiosarcoma to the list of health conditions with covered benefits."
2020 Hair Cell Leukemia and Ground Water Contamination with Industrial Solvents: A Case Report
A 59-year-old male veteran presented with a 3 month history of fevers, chills, drenching night sweats, general malaise, and fatigue. The veteran was diagnosed with hairy cell leukemia (HCL), a rare form of lymphocytic leukemia. It was noted that the veteran had served at Marine Corps Base Camp Lejeune for 5 years in the 1970s.
2016 Reconstructing Historical VOC Concentrations in Drinking Water for Epidemiological Studies at a U.S. Military Base: Summary of Results
The study found that the Tarawa Terrace water treatment plant (WTP) at Camp Lejeune simulated tetrachloroethylene (PCE) concentrations reached a maximum monthly average value of 183 micrograms per liter (µg/L) compared to a one-time maximum measured value of 215 µg/L and exceeded the U.S. Environmental Protection Agency's current maximum contaminant level (MCL) of 5 µg/L during the period of November 1957-February 1987. At the Hadnot Point water treatment plant on Camp Lejeune, simulated trichloroethylene (TCE) concentrations reached a maximum monthly average value of 783 µg/L compared to a one-time maximum measured value of 1400 µg/L during the period of August 1953-December 1984. The Hadnot Point water treatment plant also provided contaminated drinking water to the Holcomb Boulevard housing area continuously prior to June 1972, when the Holcomb Boulevard water treatment plant came on line (maximum reconstructed TCE concentration of 32 µg/L) and intermittently during the period of June 1972-February 1985 (maximum reconstructed TCE concentration of 66µg/L).
2015 Evaluation of Contaminated Drinking Water and Male Breast Cancer at Marine Corps Base Camp Lejeune, North Carolina: A Case Control Study
The authors noted that they, "conducted exploratory analyses using proportional hazards methods to evaluate whether being stationed at Camp Lejeune and cumulative exposures to the contaminants were associated with earlier age at onset for male breast cancer. This approach evaluates whether exposures accelerate the onset of a disease and therefore offers an alternative perspective than that provided by logistic regression analyses, which focuses solely on the presence or absence of the disease. Proportional hazards methods for the analysis of case-control age-at-onset data are appropriate if the disease of interest is rare in the source population. We observed an accelerated onset of male breast cancer among those stationed at Camp Lejeune compared to other bases as well as among those exposed to higher cumulative levels of PCE, TCE, DCE and vinyl chloride. These results provide additional support to the associations observed in the logistic regression analyses for being stationed at Camp Lejeune and cumulative exposures to PCE, DCE, and vinyl chloride. Cumulative exposure to TCE in the high exposure category was also observed to accelerate the onset of male breast cancer but was not observed to increase the risk of male breast cancer in the logistic regression analysis.
2015 Review of VA Clinical Guidance for the Health Conditions Identified by the Camp Lejeune Legislation
The review found that "there appears to be strong evidence for an association between acute exposure to high levels of TCE or PCE and acute tubular toxicity in both rodents and humans" and that "there is accumulating evidence that acute renal injury, as might occur soon after exposure, significantly increases the incidence of chronic kidney disease (CKD) many years later. Such an effect could occur even if the acute injury were subclinical and thus not detected." However, the review also found that "there is no evidence for an increased incidence of CKD in those who served at Camp Lejeune during the time of the contaminated drinking water."
The review also found that the "risk of congenital anomalies in children born to mothers exposed to TCE, PCE, or other solvents during pregnancy have been evaluated in several studies. An association between neural tube defects and drinking water exposure or occupational exposure has been shown. The committee concludes that neural tube defects may have resulted from in utero exposures to these solvents in the contaminated drinking water at Camp Lejeune."
The review notes that the VA guidance on Camp Lejeune recognizes female infertility and miscarriages as being associated with living on Camp Lejeune. However, the VA guidance claims that "there is no evidence to support an increased risk of female infertility or miscarriage after the exposure ended or after an individual moved away from Camp Lejeune. Thus, current infertility or a miscarriage in a women who was a child, adolescent, or young adult while at Camp Lejeune is excluded." Of note, our Camp Lejeune attorneys believe there is support for miscarriage in a women who was a child, adolescent, or young adult while at Camp Lejeune.
The review concludes with a section on future considerations for Camp LeJeune, "VA has indicated—that the guidance will be revised as VA receives feedback from clinicians on its utility and clarity, and as additional scientific information becomes available pertaining to the covered outcomes and their relationship to drinking water contaminants. This may be of particular important for the neurobehavioral effects and renal toxicity endpoints as epidemiologic and toxicologic research continues on the association between exposure to the drinking water contaminants found at Camp Lejeune and adverse health effects in those two domains. As new research is published, VA may want to consider a process to evaluate periodically new research on all endpoints and to revise the guidance accordingly to ensure that it fulfills its intended purpose—as is now done for the VA/U.S. Department of Defense Clinical Practice Guidelines for various health conditions."
2014 Evaluation of Contaminated Drinking water and Preterm Birth, Small for Gestational Age, and Birth Weight at Marine Corps Base Camp Lejeune, North Carolina: A Cross-Sectional Study
The study found an association between in utero exposure to trichloroethylene and small for gestation age, term low birth weight, and reduced mean birth weight. In utero exposure to benzene and term low birth weight. In utero exposure to tetrachloroethylene and preterm birth, with the strongest associated observed for 2nd trimester expsoures.
2014 Evaluation of Mortality Among Marines and Navy Personnel Exposed to Contaminated Drinking Water at USMC Base Camp Lejeune: A Retrospective Cohort Study
The study found that, "Compared to Camp Pendleton, Camp Lejeune had elevated morality hazard ratios (HRs) for all cancers (HR = 1.10, 95% CI: 1.00, 1.20), kidney cancer (HR = 1.35, 95% CI: 0.84, 2.16) liver cancer (HR = 1.42, 95% CI: 0.92, 2.20), esophageal cancer (HR = 1.43, 95% CI: 0.85, 2.38), cervical cancer (HR = 1.33, 95% CI: 0.24, 7.32), Hodgkin lymphoma (HR = 1.47, 95% CI: 0.71, 3.06), and multiple myeloma (HR = 1.68, 95% CI: 0.76, 3.72). Within the Camp Lejeune cohort, monotonic categorical cumulative exposure trends were observed for kidney cancer and total contaminants, Hodgkin lymphoma and trichloroethylene and benzene. Amyotrophic Lateral Sclerosis (ALS) had HR = 2.21 (95% CI: 0.71, 6.86) at high cumulative vinyl chloride exposure but a non-monotonic exposure-response relationship." The study concluded that elevated Hazard Ratios (HRs) were detected "at Camp Lejeune for several causes of death including cancers of the kidney, liver, esophagus, cervix, multiple myeloma, Hodgkin lymphoma and ALS. CIs were wide for most HRs because < 6% of the cohort had died, long-term follow-up would be necessary to comprehensively assess effects of drinking water exposures at the base."
2014 Mortality Study of Civilian Employees Exposed to Contaminated Drinking Water at USMC Base Camp Lejeune: A Retrospective Cohort Study
The study found that, "Compared to Camp Pendleton, Camp Lejeune workers had mortality hazard (HRs) >1.50 for kidney cancer (HR = 1.92, 95% CI: 0.58, 6.34), leukemias (HR = 1.59, 95% CI: 0.66, 3.84), multiple myeloma (HR = 1.84, 95% CI: 0.45, 7.58), rectal cancer (HR = 1.65, 95% CI: 0.36, 7.44), oral cavity cancers (HR = 1.93, 95% CI: 0.34, 10.81), and Parkinson's disease (HR = 3.13, 95% CI: 0.76, 12.81). Within the Camp Lejeune cohort, monotonic exposure-response relationships were observed for leukemia and vinyl chloride and PCE, with mortality HRs at the high exposure category of 1.72 (95% CI: 0.33, 8.83) and 1.82 (95% CI: 0.36, 9.32), respectively. Cumulative exposures were above the median for most deaths from cancers of the kidney, esophagus, rectum, prostate, and Parkinson's disease, but small numbers precluded evaluation of exposure-response relationships." The study concluded that elevated hazard ratios were detected in the "Camp Lejeune cohort for several causes of death including cancers of the kidney, rectum, oral cavity, leukemias, multiple myeloma, and Parkinson's disease. Only 14% of the Camp Lejeune cohort died by end of follow-up."
2013 Evaluation of Exposure to Contaminated Drinking Water and Specific Birth Defects and Childhood Cancers and Marine Corps Base Camp Lejeune, North Carolina: A Case-Control Study
The study found an association between 1st trimester exposure to trichloroethylene (TCE) and benzene exposure at Camp Lejeune and neural tube defects (NTDs). An association was also observed between 1st trimester exposure to tetrachloroethylene (PCE), vinyl chloride, and DCE at Camp Lejeune and childhood hematopoietic (blood, bone, or immune system related) cancers.
2009 Contaminated Water Supplies at Camp Lejeune: Assessing Potential Health Effects
The report notes that contaminated water at Camp Lejeune "was distributed to enlisted-personnel family housing, barracks for unmarried personnel, base administrative offices, schools, a hospital, industrial areas, and recreational areas. Many former residents and employees of the base have raised questions about whether health problems that they or members of their families have experienced could be related to their exposure to the contaminated water. A few studies have been performed on former residents of the bases, but they were focused only on selected birth and childhood health outcomes. As directed by Congress, the U.S. Navy requested a study by the National Research Council to review the scientific evidence on associations between historical data on prenatal, childhood, and adult exposures to contaminated water at Camp Lejeune and adverse health effects. In response to the Navy's request, the National Research Council convened the Committee on Contaminated Drinking Water at Camp Lejeune, which prepared this report."
2006 A Cross-Sectional Survey of Stressors for Postpartum Women During Wartime in a Military Medical Facility
The study's hypothesis was that "partner deployment leads to increased stress and an increase in preterm, small babies and operative deliveries. However, the study found that women at Camp Lejeune delivered higher birth weight babies if their husbands were deployed. The study did not consider or mention the impact of toxic exposures that the mothers experienced while living on Camp Lejeune.
2001 Tetrachloroethylene in Drinking Water and Birth Outcomes at the US Marine Corps Base at Camp Lejeune, North Carolina
The authors utilized multiple linear and logistic regression to analyze 1968-1985 data from 11,798 birth certificates. It was noted that tetrachloroethylene (PCE) was the most predominant contaminant at Camp Lejeune. Furthermore, PCE-exposed mothers at Camp Lejeune were "less likely to be White, less likely to live in officer's housing, less likely to be college educated, and less likely to have a college-educated partner." An association between PCE exposure at Camp Lejeune and small-for-gestational-age birth was detected.
We Can Help.
The water contamination problem at Camp Lejeune goes down in history as one of the worst contamination cases the country has ever dealt with. The damage it has caused former residents has been far-reaching, and cannot be adequately described in words.
However, fortunately, the passage of the PACT Act of 2022 means that help is available. So, if you are looking for a Camp Lejeune water contamination lawyer, contact us now. At Nigh Goldenberg Raso & Vaughn, we can assist you in this area and help you navigate the Camp Lejeune legal situation and help you make a successful claim. Call us today at 202-792-7927.