Talcum Powder Lawsuit Against J&J | February 2023 Updates
Johnson & Johnson (J&J), among others, is facing a long and ongoing legal battle over the safety of its talc-based baby powder. For decades, the multinational corporation has been accused of failing to warn consumers about the potential cancer risks associated with talc use.
As a result, thousands of people have come forward with personal injury claims, alleging that they developed ovarian cancer, fallopian cancer, or mesothelioma due to J&J's talc products.
Several high-profile talc powder lawsuits have made headlines in recent years as plaintiffs and their families seek compensation for their medical bills, pain and suffering, and other damages.
Contact our qualified lawyers today to discuss your legal options and the potential to file a lawsuit against the manufacturer.
This article will provide an update on the latest developments in the talc powder lawsuit against J&J, including the most recent verdicts, settlements, and appeals, as well as a brief timeline of the lawsuits.
We will also cover our estimations regarding the future of the litigation, the compensation of the victims, and what you need to know if you want to file a lawsuit against talc powder product manufacturers.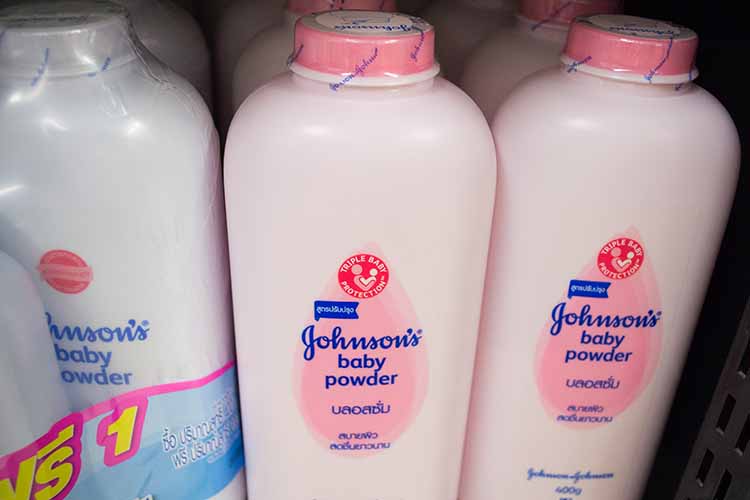 What is Talcum Powder?
Talcum powder is a cosmetic product made from talc, a mineral composed of magnesium, silicon, and oxygen. It is often used to absorb moisture and reduce friction in products such as baby powder, body powder, and makeup.
What Is the Talc Litigation Against J&J?
Johnson & Johnson is facing a considerable amount of lawsuits alleging that prolonged use of talcum powder, the main component in products such as Baby Powder, can cause ovarian cancer in some women.
The cases were filed by women who claimed Johnson's talc baby powder was contaminated with asbestos and talc, which caused the cancers. The lawsuits claim that J&J knew or should have known about the risks associated with talc use but failed to warn customers.
The lawsuits have been ongoing for many years, with new cases being filed and existing cases moving through the courts. The outcome of these lawsuits could have significant implications for the future of talc-based products and, subsequently, the personal care industry as a whole.
Can Baby Powder (talc) Cause Ovarian Cancer and Mesothelioma?
Ovarian Cancer
The use of talcum powder has been linked to ovarian cancer in some studies because talc particles can travel through the uterus and fallopian tubes and reach the ovaries, where they may cause inflammation and contribute to the development of cancer cells.
Talc has been linked to ovarian cancer since 1971, when research first suggested there may be a connection between the two factors. Since then, more studies have found similar results. In 1982 a case-controlled study was the first to link genital use of talcum powder to ovarian-cancer. Since then, many studies have confirmed that genital use of baby powder with talc can increase the risk of ovarian cancer to more than 30%. A 2016 study focused their research on African American women, as marketing studies suggested were the most common users of talcum baby powder. Unfortunately the study confirmed that African American women were 40% more likely to develop ovarian cancer than those who did not use baby powder.
Mesothelioma
Other sets of studies have associated talc products with an increased risk of mesothelioma, fallopian cancer, and lung problems.
Additionally, purity tests of J&J's products have revealed that particles of cancer-causing asbestos were found inside some of them – a component harmful even if inhaled.
Which Talcum Manufacturers and Products Have Been Associated With Talc Lawsuits?
The most prominent subject of numerous lawsuits in recent years is Johnson & Johnson. The multinational corporation has faced over 37,000 talcum powder cases stemming from asbestos contamination.
Other manufacturers, distributors, and retailers of talcum powder, such as Target, Walmart, CVS, and Walgreens, Colgate-Palmolive Co., have also been named in lawsuits.
Some of the products associated with the talc lawsuits that are included in the formed litigation are the following:

Johnson & Johnson's: Baby Powder, Shower to Shower
Colgate-Palmolive Co.: Cashmere Bouquet powder
Coty: Airspun Face Powder
Imerys Talc North America: Raw Talc
If you or a person you care about was diagnosed with cancer or mesothelioma after using talc powder for an extensive period of time, do not hesitate to speak to our lawyers, who will determine if you qualify for a lawsuit.
Talc Lawsuit MDL
Due to the large number of lawsuits filed against J&J, multidistrict litigation (MDL) has been established to consolidate the cases and streamline the legal process in 2016.
The talcum powder MDL is currently pending in the U.S. District Court for the District of New Jersey (J&J headquarters). It is overseen by Chief Judge Freda L. Wolfson, who coordinates pretrial proceedings and discovery, making the process more efficient and cost-effective.
Talc Powder Lawsuits: How Do They Work?
Talcum powder lawsuits have been brought against Johnson & Johnson—for failing to warn customers about the risks associated with using these products as directed. These companies were aware of studies showing a link between inhaling talc particles and an increased risk for ovarian cancer but failed to warn customers about this link or include warnings on product labels or packaging materials. As a result, many women who used J&J's Baby Powder on their genital area over many years developed ovarian cancer—and they weren't warned about the dangers of using the product.
If you or a loved one have been diagnosed with ovarian cancer and have used talcum baby powder, contact us today for your free consultation.
Talc Lawsuit Settlement Timeline
2016
The Judicial Panel on Multidistrict Litigation consolidated multiple cases filed against J&J into a single MDL in the U.S. District Court for the District of New Jersey. The MDL was assigned to Judge Freda L. Wolfson.
2018
Reuters conducted a secret investigation that confirmed traces of cancer-causing asbestos were found in the well-known Baby Powder by J&J. Reuters claimed that Johnson & Johnson knew for decades that some of its products were contaminated with small amounts of asbestos but failed to address it to the public.
September 2019
The FDA conducted purity tests which corroborated that traces of asbestos have been found in J&J's baby powder.
May 2020
J&J announced the discontinuation of its talc-based baby powder in the United States and Canada, stating they proceeded with that decision for review-related reasons.
July 2021
Numerous substantial verdicts have been awarded up to this point, the most prominent one being the case in which J&J was ordered to pay $2.2 billion to 22 women who developed ovarian cancer after using talc-based products from the company. The verdict was based on findings that Johnson & Johnson's talc product contained asbestos, which caused the plaintiff's ovarian cancer. This was the most significant award in any talc powder case to date.
September 2021
In 2021, Johnson & Johnson faced a series of massive jury verdicts in talcum powder lawsuits. In September 2021, one of these verdicts prompted J&J to pay $100 million to settle a group of 1,000 pending talc cases.
August 2022
J&J announced they would stop the global sale of talc-based products and finally transition to a safer corn-starch base product. The company stated that it was solely a financial decision and that their product is free of asbestos and does not cause cancer.
January 2023
J&J took advantage of a Texas and North Carolina law allowing them to move their liabilities to LTL Management, a Johnson & Johnson subsidiary that declared bankruptcy three days after its creation. The judge granted the petition to institute this bankruptcy.
The 3rd Circuit Court of Appeals rejected J&J's controversial attempt to spin off thousands of talcum powder claims into bankruptcy.
February 14, 2023
U.S. Bankruptcy Judge Michael Kaplan stated that he plans to dismiss the bankruptcy case in response to the 3rd U.S. Circuit Court of Appeals ruling, paving the way for more lawsuits to come and speeding up the litigation process.
As of today, this mass tort litigation has amounted to 57,522 cases pending in federal courts, without counting the cases in state courts, as well as undisclosed ones.
Am I Entitled to Sue Johnson & Johnson for Their Talcum Products?
If you or a loved one has been diagnosed with cancer potentially caused by Johnson & Johnson's talcum products, you may be entitled to sue the company for damages.
If you consider filing a lawsuit, you should first take into consideration the following:
Medical evidence has to be set in place which proves that you have developed ovarian, fallopian cancer, mesothelioma, or any other lung disease.
Evidence demonstrating that you have been using J&J's baby powder for years.
Statute of limitations: A law that establishes the maximum amount of time that disputing parties have from the date of an alleged offense to the date they initiate legal proceedings. Usually, there is a set timeframe, but in J&J's case, which failed to inform the public about its product's dangers, the statute of limitations is not rigid.
If you believe you have been harmed by Johnson and Johnson's talc baby powder, it is imperative to speak with our experienced product liability attorneys, who can advise you on the specifics of your case and help you pursue legal action.
When Should I Expect My Talc Powder Lawsuit Against J&J to Settle?
The timeline for settling a talc powder lawsuit can vary widely depending on the specific details of your case, such as the jurisdiction, the case's complexity, and the defendant's willingness to settle. It is difficult to predict when your talcum powder lawsuit against J&J will settle, as it largely depends on the outcome of the current appeals process and the number of other talcum powder lawsuits still pending.
The good news is that after the 3rd Circuit has dismissed J&J's bankruptcy maneuver, new cases can be filed after more than a year since the procedure was on hold, potentially speeding up the litigation process.
It is best to consult with a qualified attorney who can offer you personalized legal advice as well as information about the potential timeframe of the settlement of your case.
What Financial Outcome Can I Expect From My Talc Powder Lawsuit Against J&J?
A lawsuit's financial outcome can vary greatly depending on the damages sought, the jurisdiction, and other factors. However, Johnson & Johnson has faced costs of millions in verdicts and settlements due to talc powder lawsuits. Each case is very fact dependent and may vary greatly. The best way to determine what financial outcome to expect from your lawsuit is to speak to a qualified and experienced lawyer familiar with talc powder cases.
Contact Us Today to File a Lawsuit Against J&J for Its Talcum-Based Products
We know how intimidating it may feel to stand against a large multinational corporation claiming justice. However, taking action can put an end to the negligence and apathy of big companies toward their customers, and it can make a substantial impact on your life too.
If you are ready to claim what's right today with the constant guidance of our qualified lawyers, contact Nigh Goldenberg Raso & Vaughn today. There are no upfront fees, and we are at your disposal to discuss your case during a free consultation 24/7.